Don't Wait, Enroll Today
IMPORTANT: If you do not elect your benefits during the annual Open Enrollment period or within 31 days of your date of hire, you will not have Roper St. Francis Healthcare health plan coverage until the next year unless you have a qualified life event as defined by the IRS.
HAVE A QUESTION?
If you can't find an answer to your question after reviewing the information on this site, please email HRBenefitsTeam@rsfh.com or call (843) 720-8400.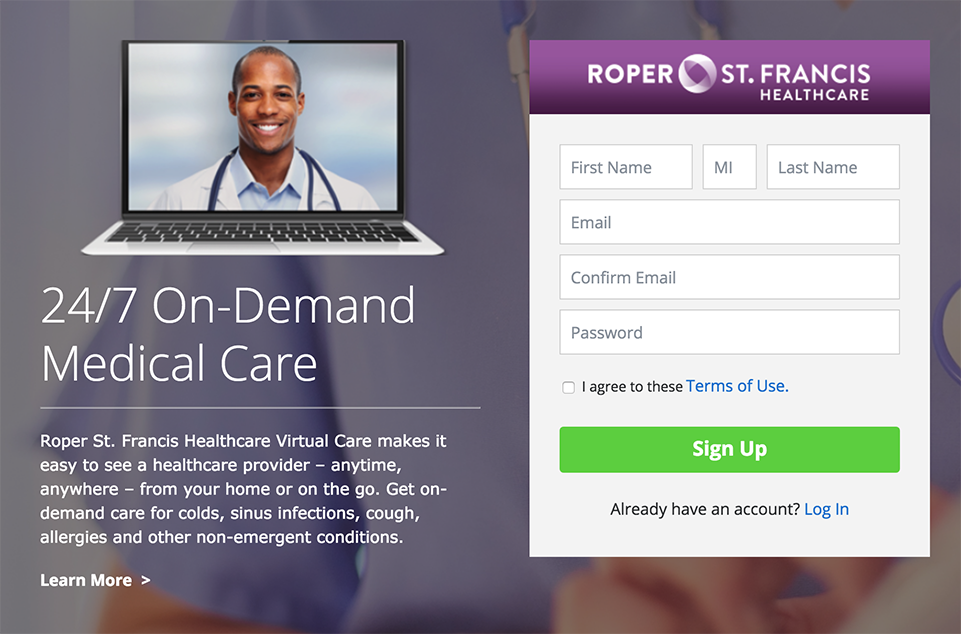 Virtual Care
Roper St. Francis Healthcare Virtual Care makes it easy to see a healthcare provider – anytime, anywhere – from your home or on the go. All you need is your computer or mobile device to see a doctor any time, day or night. During your video visit, the doctor will ask questions, answer questions, diagnose your symptoms and, if appropriate, call in a prescription to your local pharmacy.
Now offering Behavioral Health Virtual Visits!
How to Use It
There are two easy ways to use Roper St. Francis Healthcare Virtual Care:
1. Download the Roper St. Francis Healthcare Virtual Care mobile app from the App Store or Google Play
2. Visit RSFHvirtualcare.com. You must register before you can start using the service.
What types of conditions can virtual doctors treat?
Cold and flu symptoms
Bronchitis and other respiratory infections
Sinus infections
Pinkeye
Ear infections
Allergies
Migraines
Rashes and other skin irritations
Urinary tract infections
And more!
Virtual care for behavioral health
Virtual therapy services are available to you and your dependents.
The licensed therapists through the American Well network offer individualized support to work through personal challenges or difficult life issues.
To access this benefit, visit https://rsfhvirtualcare.com/ and log in or create an account. 
Once logged in:
Click "Account" at the top of the screen
Select "Add Service Key" on the left of the screen
Type RSFHTherapy in the box
Click "Add"
Go back to your RSFH Virtual Care homepage where you should now see a "Therapy" option available.
You can select a licensed therapist and schedule an appointment time that works for you. All therapists are licensed in South Carolina, but these therapists are NOT psychiatrists, meaning they cannot prescribe medication. Therapists who are certified to see adolescents will be identified with an icon; adolescents are considered those 10 and above.
If you haven't downloaded the app, search Roper St. Francis Healthcare Virtual Care in the App Store or Google Play.  You will need to register your account on RSFHvirtualcare.com before you can begin using the app.
In addition to this behavioral health offering, RSFH will maintain its Employee Assistance Program, which is free, confidential counseling for up to six sessions. If you have an issue that you expect to take more than six sessions to resolve, virtual therapy services would be a good option to consider.  Visit the Employee Assistance Page for additional information.
When should you use video visits?
You need to see a doctor, but can't fit it into your schedule
Your doctor's office is closed
You feel too sick to drive
You have children at home and don't want to bring them with you
You're on business travel and stuck in a hotel room
Roper St. Francis Healthcare Virtual Care is not a replacement for your primary care doctor. You should continue scheduling office visits for regular checkups and preventive care. For true emergencies and life-threatening issues, go to the emergency room or call 911.