Don't Wait, Enroll Today
IMPORTANT: If you do not elect your benefits during the annual Open Enrollment period or within 31 days of your date of hire, you will not have Roper St. Francis Healthcare health plan coverage until the next year unless you have a qualified life event as defined by the IRS.
HAVE A QUESTION?
If you can't find an answer to your question after reviewing the information on this site, please email HRBenefitsTeam@rsfh.com or call (843) 720-8400.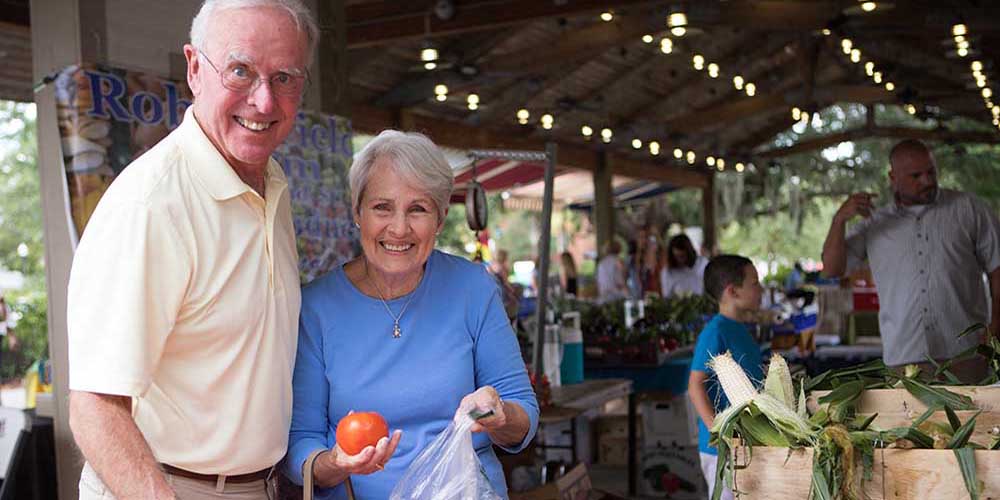 Roper St. Francis Healthcare Retirement Plan
Whether your retirement is five or 50 years away, the Roper St. Francis Healthcare 403(b) retirement plan is a valuable teammate benefit and one of the most powerful ways to enhance your long-term financial well-being. We encourage you to invest in yourself and your future by participating in this plan through Fidelity Investments.
Your retirement savings plan is an important benefit, so you need the right information, resources, and support to help you make decisions with confidence. With more than 65 years of financial services experience, Fidelity can help you put a plan in place that balances the needs of your life today with your retirement vision for tomorrow.
Retirement Plan Highlights and Frequently Asked Questions
How Do I Contact Fidelity Investments?
For general questions and help with transactions for your RSFH Retirement Plan, call the Fidelity Retirement Benefits Line at 800-343-0860, between 8:30 a.m. and midnight Eastern time, Monday through Friday. Or visit
www.Fidelity.com/ask
for answers to your questions and more ways to contact Fidelity.
For service needs in addition to your RSFH Retirement Plan, stop by one of the Fidelity Investor Centers. To find the Investor Center nearest you, visit www.fidelity.com/branches/branch-locations.
How Do I Log-In To My Online Retirement Account?
If you are logging on to your Fidelity account for the first time, you'll need to establish a username and password.
Go to www.netbenefits.com/atwork.
Click Register as a new user at the top right.
Follow the instructions to set up your login information.
If you already have a username and password with Fidelity, you can use your existing login information.
Why Save in the Roper St. Francis Healthcare Retirement Plan?
Your plan offers three key advantages:
Automatic savings — Your contributions are deducted directly from your pay.
Pretax contributions — Your contributions are deducted from your pay before federal taxes, which reduces your current taxable income.
Tax-deferred growth — The money in your account grows free from taxes until you withdraw it. You don't have to pay taxes each year on your contributions or earnings, so there's more money in your account to continue compounding.
Who Is Eligible to Participate in the Retirement Plan?
All Roper St. Francis Healthcare teammates are eligible to participate in the Roper St. Francis Healthcare 403(b) plan.
Looking for More Ways to Boost Your Retirement Savings?
We all have those little extra things that we spend money on each day, week, month or year. Avoiding those little extras and saving the money in your 403(b) plan can quickly contribute to your future financial security.
Here are just a few examples: *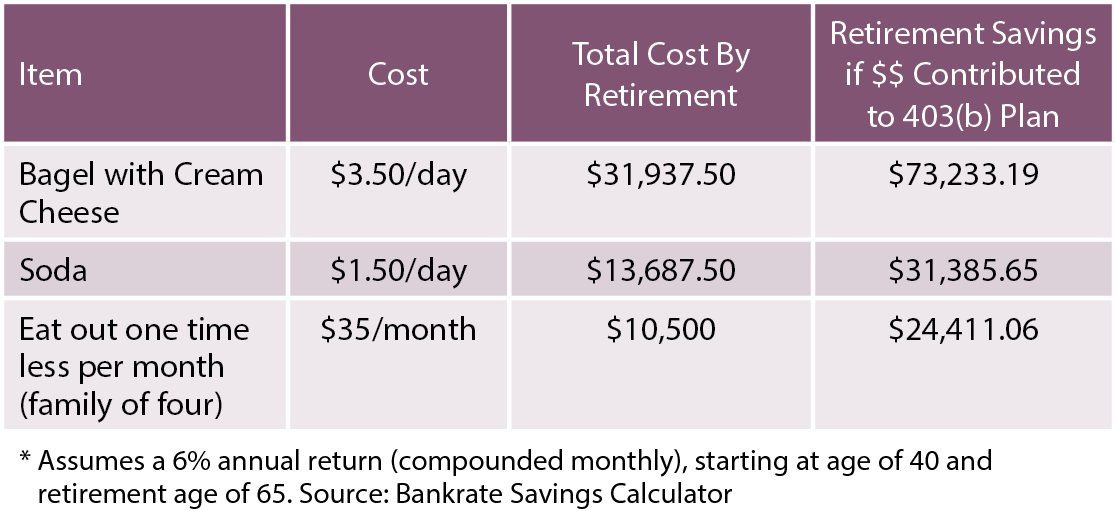 How Do I Update My Name or Address on My Fidelity Investments Account?
Any updates to your personal information made in the Human Resources Information System (MyHR in 2023 and Workday in 2024) are automatically updated to your Fidelity Investments retirement account after one full pay period.  You do not need to contact Fidelity Investments directly to update your personal information.
How Often Can I Change My Retirement Contribution Rate?
You can update your 403(b) retirement contribution rate throughout the payroll calendar year in any of the following ways. Please note 403(b) retirement account contribution updates are processed by the end of the next full pay period.
Log on to your account at www.netbenefits.com/atwork
Select Contribution Amount under the Quick Links drop-down menu.
How Do I Change My Investments?
I'm Purchasing a Home and My Mortgage Banker Needs My Retirement Plan Info.
Log on to your account at
www.netbenefits.com/atwork
; select Plan Information and Documents under the Quick Links drop-down menu to download or view the 403(b) summary plan description (SPD) to provide to your mortgage banker.
I'm Getting Ready to Retire, What Do I Need to Do?
Contact a Fidelity Retirement Planner to schedule an individual consultation at 800-343-0860.